---
My books reflect my deep
interest in examining and
revealing our inherent and
often unused potential.
When all potential is in use,
we can actively develop our
consciousness and become
observant co-creators in
our lives. It opens up for
possibilities which I want
everyone to know about …
BOOKS TRANSLATED INTO ENGLISH: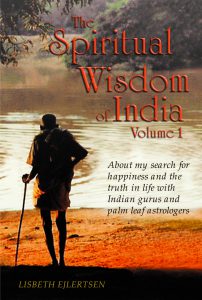 The Spiritual Wisdom of India
Volume 1
About my search for happiness
and the truth in life with Indian
gurus and palm leaf astrologers
English edition, January 2017
Published by AuthorHouse
© Lisbeth Ejlertsen
292 pages
Paperback:
ISBN 978-1-5246-6655-2
Hardback:
ISBN 978-1-5246-6656-9
E-book:
ISBN 978-1-5246-6654-5
This is an authentic book about
my journey to Indian sages and
palm leaf astrologers. It also
gives an insight into a spiritual
development in the course of
22 years …
Follow this link to the English
language homepage with more
information about this book:
Press here
BOOKS IN DANISH:
The Danish edition of the
English book mentioned
above has the following
Danish cover and title: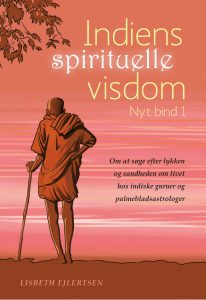 Indiens spirituelle visdom
Nyt bind 1
Om at søge efter lykken og
sandheden om livet hos indiske
guruer og palmebladsastrologer
It is a new and updated version
of an earlier book.
New Danish edition, May 2017
Published by: Forlaget FlowLab
© Lisbeth Ejlertsen
284 pages
Paperback:
ISBN 978-87-999608-0-4
E-book:
ISBN 978-87-999608-1-1
Follow this link to the Danish
language homepage with more
information about this book:
Press here
A book about flow: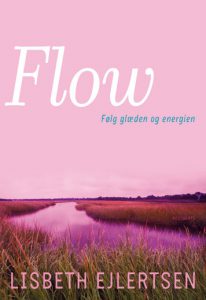 Flow
Følg glæden og energien
Danish edition, 2017
Published by: FlowLab
© Lisbeth Ejlertsen
277 pages
Paperback:
ISBN: 978-87-999608-2-8
First Danish edition, 2007
Published by: Forlaget Rosinante/
GB-forlagene A/S
© Rosinante & Lisbeth Ejlertsen
This book can help you to
make contact with the flow 
of life… It will guide you to:
achieving inner harmony

living authentically

achieving flow in your  private life

achieving flow in your working life
Follow this link to the Danish
language homepage with more
information about this book:
Press here
First edition of the book on
the Spiritual Wisdom of India: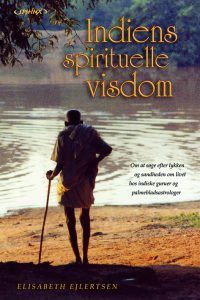 Indiens spirituelle visdom
Om at søge efter lykken og
sandheden om livet hos indiske
guruer og palmebladsastrologer
Danish 1st and 2nd edition, 2003
Published by: SphinX Forlag
© SphinX Forlag & Lisbeth Ejlertsen
190 pages
Paperback:
ISBN: 87-7759-213-1
Follow this link to the Danish
language homepage with more
information about this book:
Press here